Anata no Risou no Heroine, (あなたの理想のヒロイン lit. Your Ideal Heroine) is a solo song from the Nijigasaki High School Idol Club's debut album, TOKIMEKI Runners. It is performed by Osaka Shizuku. It was released on November 21, 2018, and is one of the first few songs in Love Live! School Idol Festival! ALL STARS.
This song is written and composed by Tsukimisou, arranged by Endo Naoki.
The song is unlocked along with the other debut Nijigasaki solo songs after clearing Chapter 2 Stage 17. One of those nine songs will be chosen for the Live Show, determined by the player's choice of character in Stage 16 (Episode 10, Part 1). As a result, Anata no Risou no Heroine, along with the other eight songs, are the only ones that can be unlocked without having to play them in the Story first.
Tracklist
[
]
Yume e no Ippo (夢への一歩)
Diamond (ダイアモンド)
Anata no Risou no Heroine (あなたの理想のヒロイン)
Meccha Going!! (めっちゃGoing!!)
Nemureru Mori ni Ikitai na (眠れる森に行きたいな)
Doki Pipo ☆ Emotion (ドキピポ☆エモーション)
Videos
[
]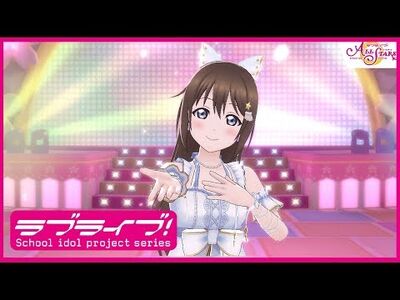 Stage Information
[
]
Formation
[
]
Audio
[
]
Lyrics
[
]
Hitoke no nai houkago no rouka no sumi odoriba wa
Watashi dake no butai daremo shiranai suteeji

Itsumo no you ni hitorikiri ase mamire no keikochuu
Guuzen toorikakatta anata ni deatta

Hanasu tabi mune no naka maru de kigeki o mioeta youna
Kanjou ga afuredashite kuru no shiawase ni tsutsumareru

Anata no risou no hiroin itsu no hi ni ka naremasu you ni
Adoribu ga nigate na watashi o suteki na shinario de michibiite
Kurikaeshi oboeta serifu mo kitto me o mite wa ienai kara
Zutto soba de tada no kouhai o enji sasete kudasai

Itsumo no yō ni hitorikiri ase mamire no keiko datte
Mou tsuraku nante nai yo anata ni deatte

Kore made no watashi ni wa nakatta hyougen ryoku ga ima
Monogatari dainishou no hajimari shizuka ni maku ga agaru

Dareka o egao ni dekiru hito ni naritai
Demo ichiban wa anata o egao ni shitai

Anata no risou no hiroin itsu no hi ni ka naremasu you ni
Adoribu ga nigate na watashi o suteki na shinario de michibiite
Kurikaeshi oboeta serifu mo kitto me o mite wa ienai kara
Zutto soba de tada no kouhai o enji sasete kudasai
人気のない放課後の 廊下の隅 踊り場は
私だけの舞台 誰も知らないステージ

いつものようにひとりきり 汗まみれの稽古中
偶然通りかかった あなたに出逢った

話すたび 胸の中 まるで喜劇を観終えたような
感情が溢れだしてくるの 幸せに包まれる

あなたの理想のヒロイン いつの日にかなれますように
アドリブが苦手な私を 素敵なシナリオで導いて
繰り返し覚えた台詞も きっと目をみては言えないから
ずっと側で ただの後輩を演じさせてください

いつものようにひとりきり 汗まみれの稽古だって
もう辛くなんてないよ あなたに出逢って

これまでの私には なかった表現力がいま
物語 第二章の始まり 静かに幕が上がる

誰かを笑顔に出来る人になりたい
でも一番はあなたを 笑顔にしたい

あなたの理想のヒロイン いつの日にかなれますように
アドリブが苦手な私を 素敵なシナリオで導いて
繰り返し覚えた台詞も きっと目をみては言えないから
ずっと側で ただの後輩を演じさせてください
After school, when everyone has left, in the corner of a hallway,
The dance hall is my own - a stage no one else knows of

It was a day like any other. I was practicing by myself,
And covered in sweat, when you happened to pass by

Every time we talk, a feeling in my chest starts overflowing
Like watching a good comedy, and I'm enveloped in happiness

May one of these days I become your ideal heroine
I'm bad at ad lib-ing. Lead me through with a nice scenario
The lines I memorized over and over, just don't come when I look in your eyes
So for now, please let me perform beside you simply as a junior partner

Unlike all the times before, my practicing alone
Doesn't feel so harsh ever since I've met you

Now, the expressiveness I've since lacked, I have
The curtain is rising quietly on the second chapter of my story

I want to be one who can bring a smile to someone else
But most of all, I want to bring a smile to you

May one of these days I become your ideal heroine
I'm bad at ad lib-ing. Lead me through with a nice scenario
The lines I memorized over and over, just don't come when I look in your eyes
So for now, please let me perform beside you simply as a junior partner